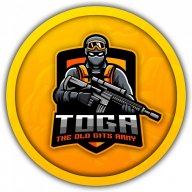 Clan Founder
Staff member
Server Admin
TOGA Member
Jan 5, 2010
4,915
654
133
Battle.net ID

z3r0KillsAgn#2234
Please add your name below if you are able and willing to come to this monumental event.....an event steeped in history, legend, and myth!
Based on the results of the
poll
, it will be Friday 22nd May (atm)
Time
7.45pm for an 8pm start.
Confirmed Players
Zero
Weston
Clown
SomeOldGit
ShadowFax
M1ndUn0t
JackaL
Crispy
Custom
Blackthorn
Ne0
Maps / Modes
Euphrates Bridge /
Grind
Sawmill / CTF
TBC / TBC
Game Settings
Default game settings for the first night, then we can discuss settings on forum and tweak to suite.
General
Teams randomized to try and prevent total domination
Match start time = 1 minute to allow players to switch channels on TS
Round start time = 15 seconds
I hope you can all make it. Could potentially punt it to Saturday or the following week if I've not allowed enough time.
Last edited: